scrap car Metal Shredder shredding machine for sale
Metal shredder is mainly used to break waste metal and increase its packing density to facilitate transportation and recycling. The equipment is widely used in shredding paint barrel, diesel barrel, thin iron sheet, car shell, metal pressing block, metal plate scraps, and other waste metal materials.

Because there are too many crusher equipment manufacturers in the market, and there are many bad businesses that make up the number of bad businesses to spoof the market at low prices, here it is suggested that users should go to some of the more famous when choosing and purchasing crusher equipment. More formal manufacturers there to buy, and must compare three, attention! The comparison of goods here refers not only to the comparison of crusher prices given by various manufacturers but also to the comparison of the overall performance of equipment and the configuration of parts and components of each manufacturer.

Product Description:
If you have E waste/plastic/ wood / Cardboard recycling factory or recycling center, then there's a very big possibility that our Waste Shredder is suitable for you. The shredder is normally used as pre-shredder for coarse shredding, there are single shaft / double shaft designs for meeting different shred demands. All these 2 design shredders can reduce big size waste into small pieces for easy reprocessing, storage and transportation, creating new value from reusable wastes.

If you have the difficulty of choosing suitable shredder, you can just email us or call us, tell us which material you want to shred, what's your capacity demand and output size request? Then we can recommend you the most suitable shredder, offer price and machine technical date, this is the most effective way.

Shuangxing shredding machine consists of motor,reducer,rotating knife shaft ,import knife, knife, frame, frame, body, such as the main structure, because it is a claw type moving blade, rotary cutting, after heat treatment the hardness of HRC60 ° above, so the service life is long, strong cutting ability, high capacity, the normal use of 10000 tons more than just need to sharpen, collocation of conveyor belt, separator, nylon separator, secondary crusher, and steel wire mill is used, along with all the so of automation, rationalization and ShengLiHua, effectively reduce the labor intensity, improve the working environment
Performance characteristics of a shredder:
We save transportation cost and landfill cost. Part of garbage in daily life is very large, such as:Junk furniture, wood waste, if we pull it to the landfill directly fill in the field, is one of the transportation cost is commonly used up expensive, many people believe that China's current landfills not to collect fees, is misunderstood, we pay at ordinary times of garbage fee already contains to pay the cost of the landfill site, in the United States, to pull garbage landfill is pay by the volume of waste landfill, in other words, said your garbage, the greater the volume, the more you pay cost, because, the garbage processing will first in order to achieve the purpose of cost saving for crushing the waste.
The working principle of a metal shredder:
Shuangxing metal shredder is mainly composed of shredding blade set, carrying box body, box body bracket, feeding system, power system, electrical control system. The material enters into the shredding box body through the feeding system, and the box body is loaded with shredding blades. After the comprehensive action of shredding blades tearing, extrusion and shearing, the material is shredded into small pieces and discharged from the lower part of the box body.
Metal shredder product advantages:
1, heavy moving tool, high crushing power, the tool is cast with alloy steel, strong service life is long.
2, frame plate thickness, high torque resistance, very strong.
3, microcomputer (PC) automatic control, set up the start, stop, reverse and overload automatic reverse control function.
4. The equipment has the characteristics of low speed, high torque, low noise, and dust, which can meet the environmental protection standards.
5. Easy to adjust, low maintenance cost, economical and durable.
6. the thickness of the tool and the number of claws can be replaced according to different materials.
Pre-sale:
(1) selection of equipment type.
(2) Design and manufacture products according to the special requirements of customers.
(3) training of technical personnel for clients.
(4) The company plans the site for the user free of charge, designs the suitable process and the plan.
On sale:
(1) acceptance of the product.
(2) assisting clients in the preparation of construction plans.
After sale:
(1) assign special after-sales service personnel free of charge to guide customers to install and debug.
(2) installation and debugging of equipment.
(3) on-site training of operators.
(4) after the installation of the complete set of equipment, the full-time technical personnel may assist the customer in on-site production until the user is satisfied.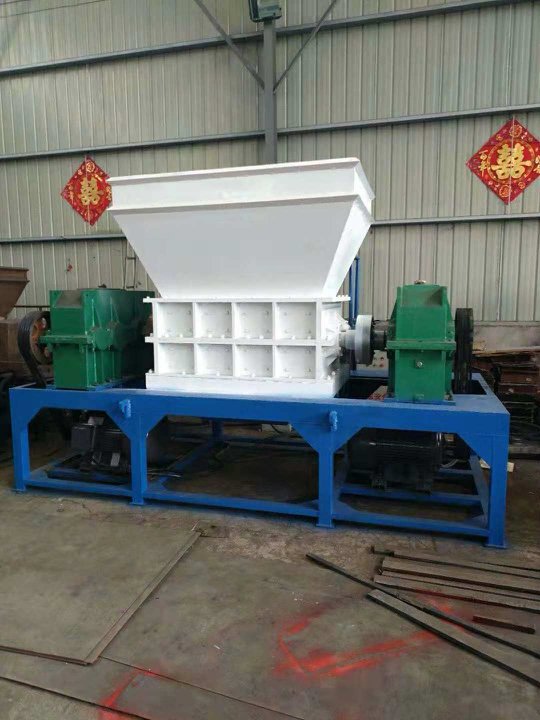 Looking for ideal Scrap Car Shredder for Sale Manufacturer & supplier ? We have a wide selection at great prices to help you get creative. All the Scrap Car Shredding Machine are quality guaranteed. We are China Origin Factory of Scrap Metal Shredder for Sale. If you have any question, please feel free to contact us.
Product Categories : Shredder Machine > Scrap Shredder